Dragon's Blood Palm
Daemonorops draco Blume
Arecaceae
Location in our garden
Section D (Orchard)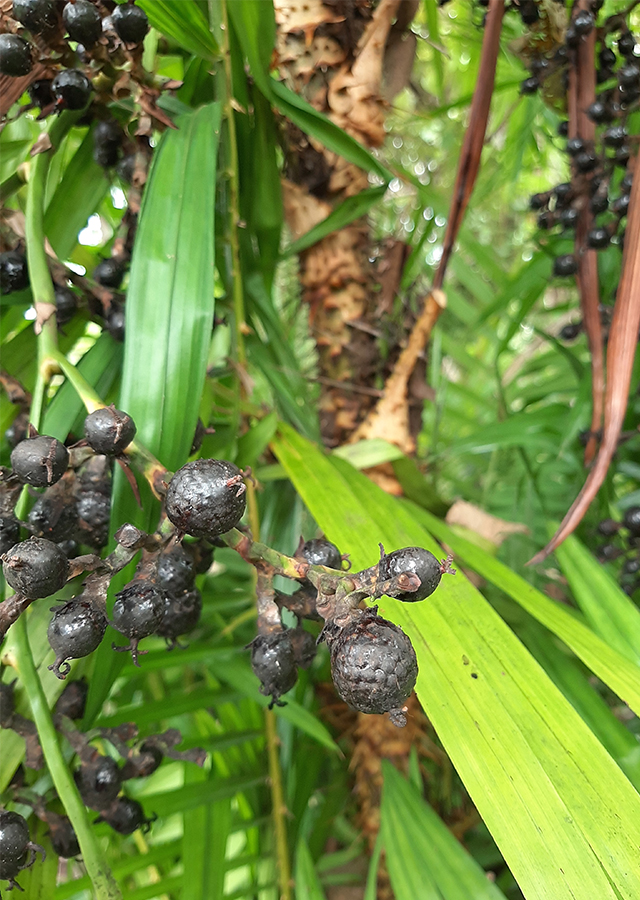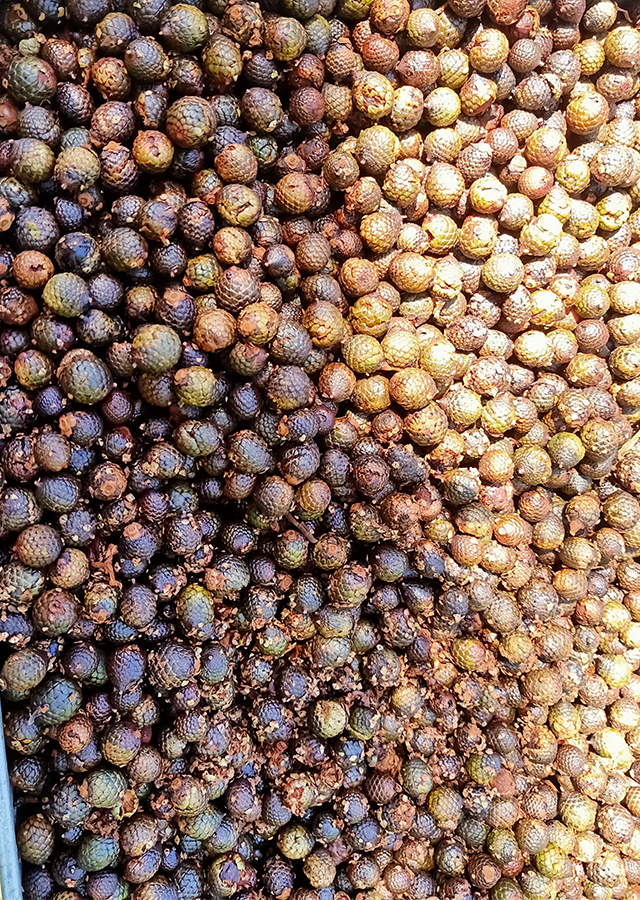 Habitus
Palm. An evergreen climbing perennial palm, unbranched stems up to 15 m long.
Part Used
Fruit
Resin
Growing Requirements
Need Shade
Habitat
Forest
Overview
Dragon's blood palm is native to Indonesia (Sumatra and Kalimantan), Malaysia, and Thailand. Since their distribution seems only limited to part of western South-East Asia, they are said to be endemic to that region. It is a deep red resin, which has been used since ancient times. It has been long used by some indigenous tribes in Sumatra-Talang Mamak and Anak Dalam or Kubu tribes, that are mainly dependent on forest resources for their livelihood. Dragon's blood has been used for diverse medical and artistic applications.

Vernacular Names
Longxuejie (Chinese), Kirin-kakketsu (Japanese), Wi ondo (Malaysia).

Agroecology
D. draco is a plant of moist lowland areas. This species can be found in hill slope and valley bottom on lower montane primary forest up to 1,000 m altidtude. They grow best in a humusrich soil, with their roots in the shade but with enough gap in the canopy to encourage their stems to grow up towards the light.

Morphology
Stems - without sheaths 8-14 mm in diameter, with sheaths up to 30 mm, internodes to 20 cm long, leaf sheaths brownish armed by densely horizontaltriangular spines, flattened, 5-45 mm long.
Leaves - up to 3 m long, cirrus to 100 cm long, petiole to 10 cm long, adaxially yellow, armed with group of spines, leaflet is irregularly arranged at the upper half, regularly arranged below, up to 20 on each side, leaflets linear lanceolate, 37 cm long, and 4 cm wide, at the margins blackish bristly.
Flowers - inflorescence pendulous, up to 51 cm long, peduncle 9 cm long, armed along the margin with short spines, ellipsoid oblong.
Fruits - covered by 10 scales arrange in vertical rows, broad, 1.3 x 1.3 cm, dark reddish line in the middle of scales, scattered with dragon's blood.
Seeds - ovate oblong, 1 x 0.7 cm, reticulate on half surface and the other half deep rugose surface.
Cultivation
Propagation is done by seeds (generative propagation).
Chemical Constituents
Dracorhodin, dracorubin, dracooxepine, dracoalban, dracoresene, dracoresinotannol, dracoflavan A, dracoflavan B1; B2; C1; C2; D1; D2, nordracohobin, nordracorubin, abietic acid, dehydroabietic acid, isoprimaric acid, pimaric acid, sandaracopimaric acid, benzoic acid, secobiflavanoid, dammaradienol.
Traditional Medicinal Uses
Its natural antioxidant is required as a free radical scavenger and able to prevent the human body from any kind of oxidative damages.
The resin is astringent and stimulant. Internally, it is used to alleviate chest pains, post-partum bleeding, internal traumas, and menstrual irregularities.
The resin has been used in dentifrices and as a mouth wash.
In Indonesia, it is used for healing a wound, headache, and even fever by
Anak Dalam tribe.

Reference Sources
Fern, Ken, (2014) Useful Tropical Plants: Daemonorops draco.http://tropical.theferns.info/viewtropical.php?id=Daemonorops+draco. 17-08-2020
Gupta, D., Bleakly, B., and Gupta, R.K. (2008). Dragon's blood: Botany, chemistry and therapeutic uses. Journal of Ethno-Pharmacology, (115) (pp361-380).
Kew Science. No date. Calamus draco Willd. - Plants of the World Online.http://powo.science.kew.org/taxon/urn:lsid:ipni.org:names:665061-1. 17-08-2020 PROSEA. (2016). Daemonorops draco - PlantUse English. https://uses.plantnetproject.org/en/Daemonorops_draco_(PROSEA). 17-08-2020.
Purwanti, S., Wahyuni, W.T., and Batubara, I. (2019). Antioxidant Activity of Daemonorops draco Resin, Journal of Scientific and Applied Chemistry, 22 (5) (pp179-183).