Annatto Tree
Location in our garden
Section A (Principal)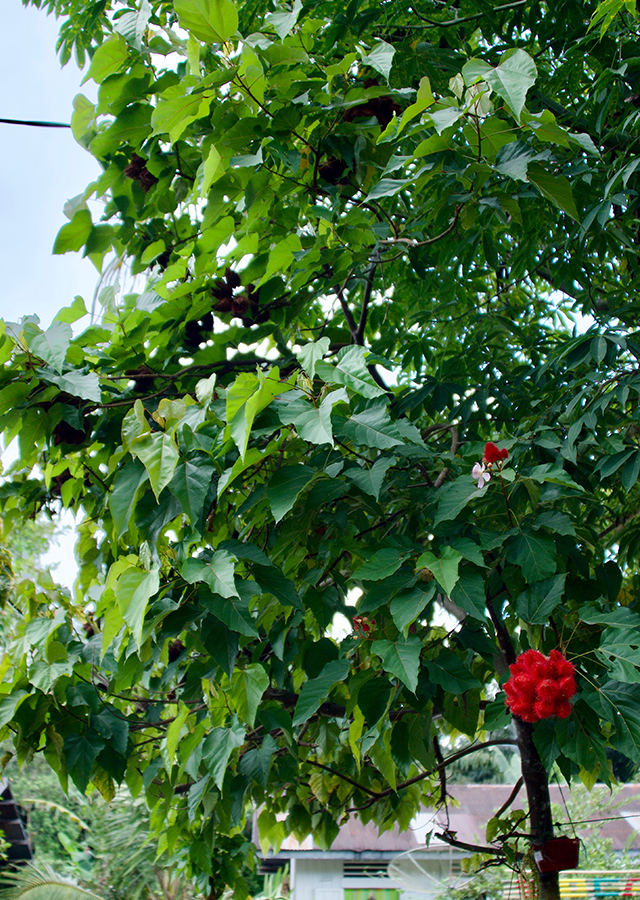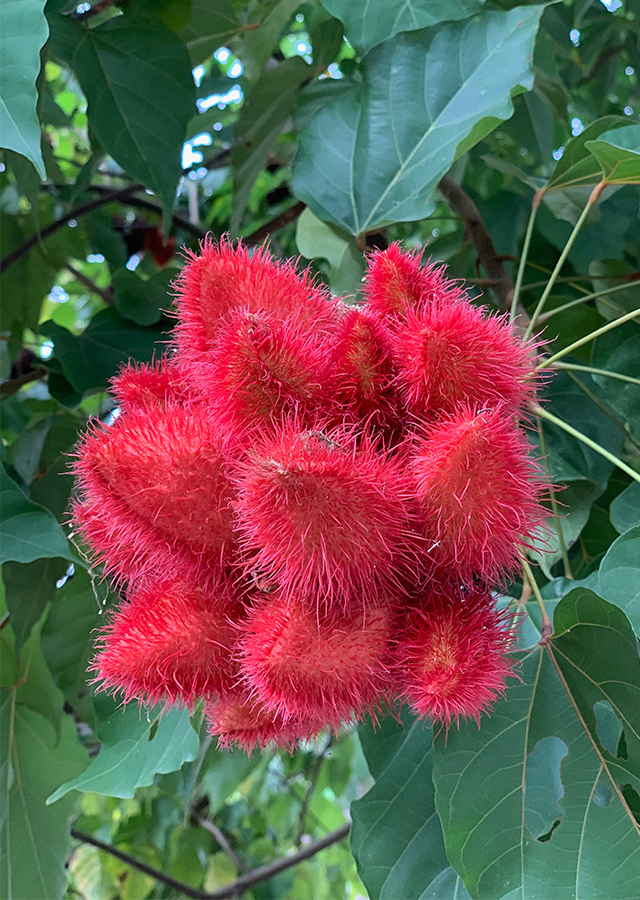 Habitus
Shrubs. A fast-growing evergreen shrub or small tree,perennial, growing from 2- 8 m tall.
Growing Requirements
Full Sunshine
Habitat
Forest
Coastal
Overview
Bixa orellana is originally from tropical America. In tropical and subtropical regionsaround the world, it is cultivated and naturalized for the red substance thatsurrounds the seeds and which is commonly used as a dye, food coloring, flavoringand insect repellent.
Vernacular Names
Urucum. (Brazil), Yan zhi mu (Chinese), Achuete (Phillipines), Achiote (Japan),Galuga (Arabica), Diêù nhuôm (Vietnam), Axiote (Mexico), Kam set (Thailand), Annato (French).
Agroecology
A frost-free, wet, humid climate is needed byBorellana. It can develop in tropical to sub tropical climates at altitudes from sea levelup to 2,200 m, where the average annual rainfall is 2,500-5,000. Mm is spread throughout the whole year. A mean annual temperature in the range of 28-32 °C ispreferred. It succeeds in choosing moist, butwell-drained, neutral or slightly alkaline soil in a sunny location on almost all soil types.
Morphology
Bark - can be 10-30 cm in diameter.
Leaves - entire, alternate with long petioles,ovate, 8-20 cm long, 5-12 cm wide, with abroad and heart-shaped base, and a pointedtip.
Flowers - white or pinkish, 4 to 6 centimeters in diameter on terminal panicles.
Fruits - ovoid or rounded, spiny capsules, reddishbrown, about 4 cm long, covered with long,slender and soft spines. The fruit is dried and splitopen into two sections, revealing several small redseeds covered with a red pulp that produces dye.
Chemical Constituents
Steroids, alkaloids, proteins, flavonoids, terpenoids, phenolics, tanninspalmitin, stearin, phytosterol.and glycosides.
Traditional Medicinal Uses
To control asthma, root decoction is administered orally. For the preventionof venereal diseases, a root infusion is used in water and rum. Oliguria and jaundice are handled with a tea made from a root.
To cure aches, the leaves are applied to the head and to sprains. As atreatment for dysentery and to prevent vomiting during pregnancy, adecoction of the leaves is used.
For the alleviation of fevers, a macerated seed decoction is taken orally.They are used as a syrup to treat pharyngitis and bronchitis. To stop blistering and scarring, the ground seeds are used for burns.
As a remedy for skin rashes, sap from the bark and crushed leaves is used.As a treatment for malaria, angina and asthma, a decoction of the bark isused.
Cultivation
Generative transmission occurs by seeds.Germinate easily under moist conditions within 7-10 days. Seeds are sown directly in the ground, 2-5seeds per hole, usually at the beginning of the rainyseason, in well-prepared soil. In planting trays,seedlings can also be grown and kept in the nurseryfor 3-4 months before being transplanted into thefield.
Vegetative proliferation occurs by sand cutting, airlayering, and budding. The selection of high-yielding, rapidly growing cultivars that flower earlyand profusely and bear fruit within 2 years ispossible through the propagation of cuttings.
Reference Sources
CABI. (No date). Bixa orellana (annatto).. https://www.cabi.org/isc/datasheet/9242. 21-10-2020.
Fern, Ken. (2014). Bixa orellana - Useful Tropical Plants. http://tropical.theferns.info/viewtropical.php?id=Bixa+orellana. 21-10-2020.
Stuart Xchange. (2016). Phillipines Medicinal Plants: Achuete-Bixa orellana Linn., LIPSTICK PLANT http://stuartxchange.com/Asuete. 21-10-202