Coral Berry Tree
Breynia vitis-idaea
Phyllanthaceae
Location in our garden
Section D (Orchard)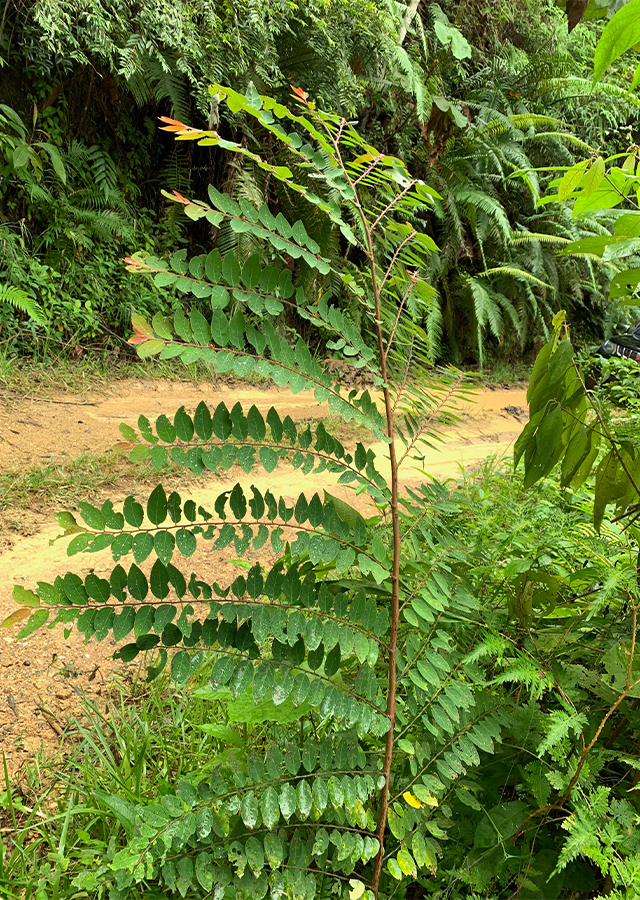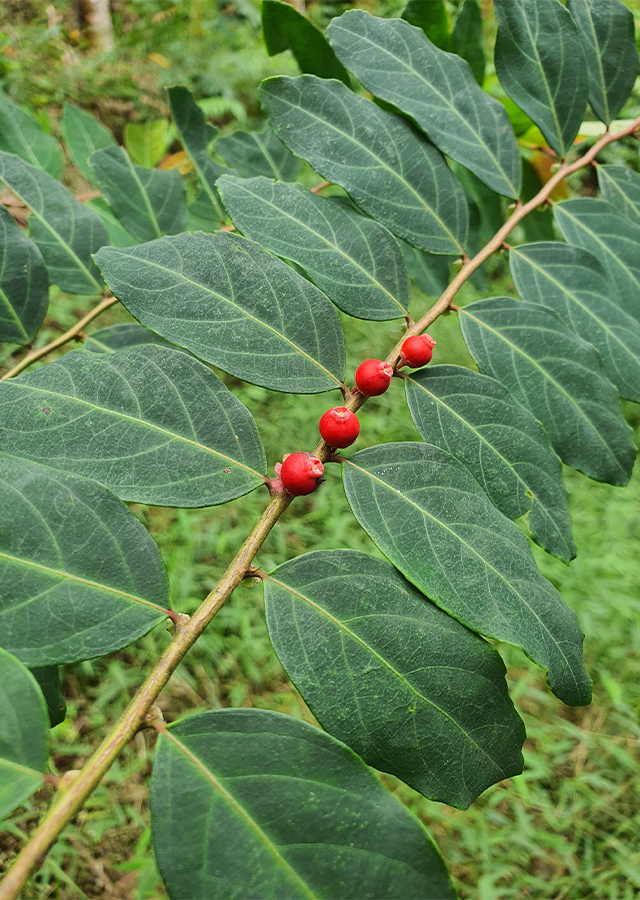 Habitus
Shrubs. A shrub or small tree, sometimes adopting a more orless climbing habit, growing up to 5 m tall.
Growing Requirements
Drought Resistant
Habitat
Riverbanks
Forest
Coastal
Shrublands
Overview
Breynia vitis-idaea can be found in its native range in East Asia - southern China, Indian subcontinent through tropical Asia to Indonesia. The plant is harvested from the wild for its use in traditional medicine.
Vernacular Names
Kaangplaa thale (Thailand), Shan qi jing (Chinese), Matang-hipon (Phillipines), Hime kobannoki (Japan), Seruyan (Malaysia), Cu de (Vietnam).
Agroecology
B. vitis-idaea is typically found scattered in evergreen trees, mangroves, swamp forests, bamboo thickets, along rivers and roads and along the shore, from sea level to an altitude of 800 m, on the edges of forests and clearings. It occurs on montane slopes and scrub in southern China at altitudes of 100-1,000 m. Seeds - subtrigonous. 3-4.5 mm x 1.8-2.5 mm x 1.7-2.5 mm.
Morphology
Barks - yellowish grey.
Leaves - distichous, simple, elliptic to elliptic-ovate, 1-3 cm long, margin flat.
Fruit - pink, purple or dull red, round, somewhat fleshy, nearly spherical, about 5mm in diameter, subglobose capsule, obscurely 6-lobed, fruiting perianth hardly enlarged.
Flowers - very small, greenish or pink, axillary, solitary, and about 3-5 mm in diameter, the flowers lack petals and are dimorphic, with male flowers arranged toward the base and female flowers at the apex of each branch.
Chemical Constituents
Alkaloids, Breynin, Flavonoids, Glycosides, Saponins, 6-O-benzoylarbutin, and Benzoylalpha-D-glucose.
Study yielded a new megastigmane glucoside, Canangaionoside
Traditional Medicinal Uses
Antioxidant, radical scavenging, anti-cancer, larvicidal, adaptogenic, antihyperglycemic, hypolipidemic, hepatoprotective, inhibiting properties of tyrosinase have been demonstrated in studies.
To avoid hemorrhages, the bark is astringent and used.
Infusion of leaves for fever in warm water.
In traditional Chinese medicine, it is used to treat chronic bronchitis and wounds.
Used in Ayurveda for leucorrhea, edema, menorrhagia, diabetes, tooth decay. Root decoction is used as mouthwash in India.
The mature stem is used as a herbal toothstick by Tamil ethnic groups.
Cultivation
It can be propagated by seeds (generative propagation) and by stem cuttings (vegetative propagation)
Reference Sources
Fern, Ken. (2014).Breynia vitis-idaea- Useful Tropical Plants. http://tropical.theferns.info/viewtropical.php?id=Breynia+vitis-idaea. 21-10-2020.
India Biodiversity Portal,Species Page: Breynia vitis-idaea (Burm.f.) C.E.C.Fisch. https://indiabiodiversity.org/species/show/228948.26-10-2020.
Stuart Xchange. (2016). Matang-hipon-Breynia vitis-idaea (Burm.f.) C.E.C.Fisch.INDIAN SNOWBERRY http://www.stuartxchange.com/Matang-hipon.html. 21-10-2020.
Van Welzen, P.C. (2016)). Breynia vitis-idaea (PROSEA). https://uses.plantnetproject.org/en/ Breynia_vitis-idaea_(PROSEA). 21-10-2020. Kato, M. & Kawakita, A. (2017). Obligate Pollination Mutualism. Springer, Tokyo-Japan.