Cucumber Tree
Averrhoa bilimbi
Oxalidacea
Location in our garden
Section D (Orchard)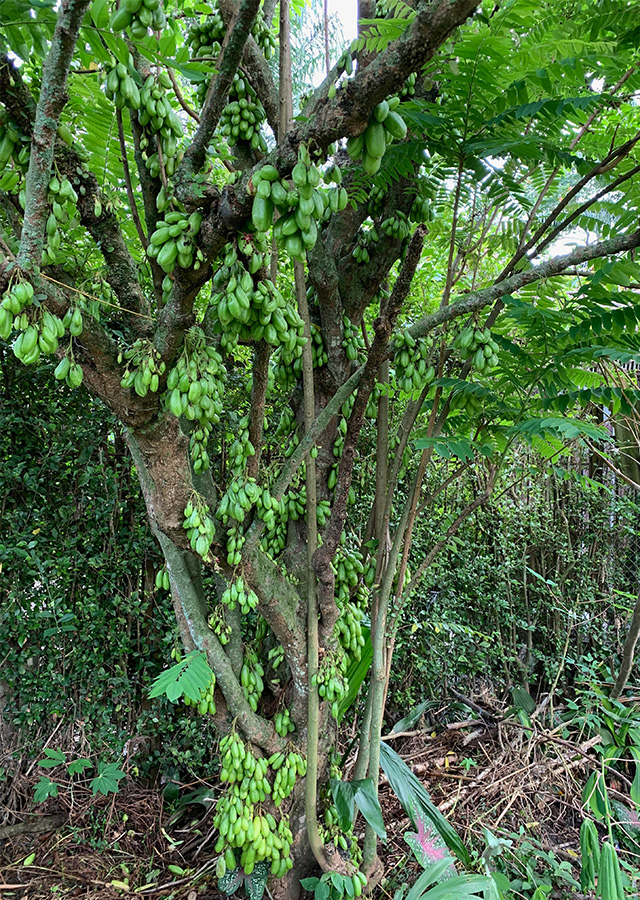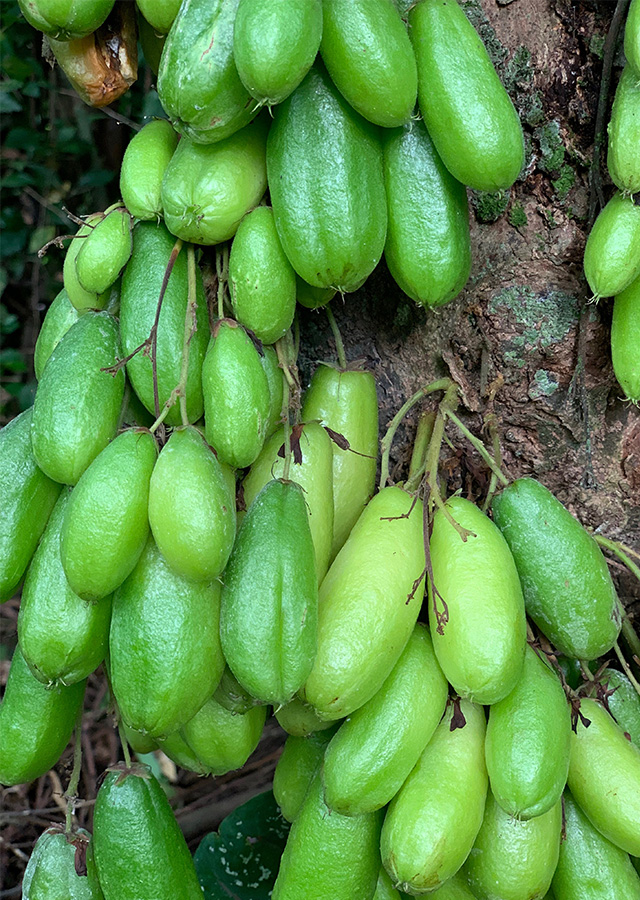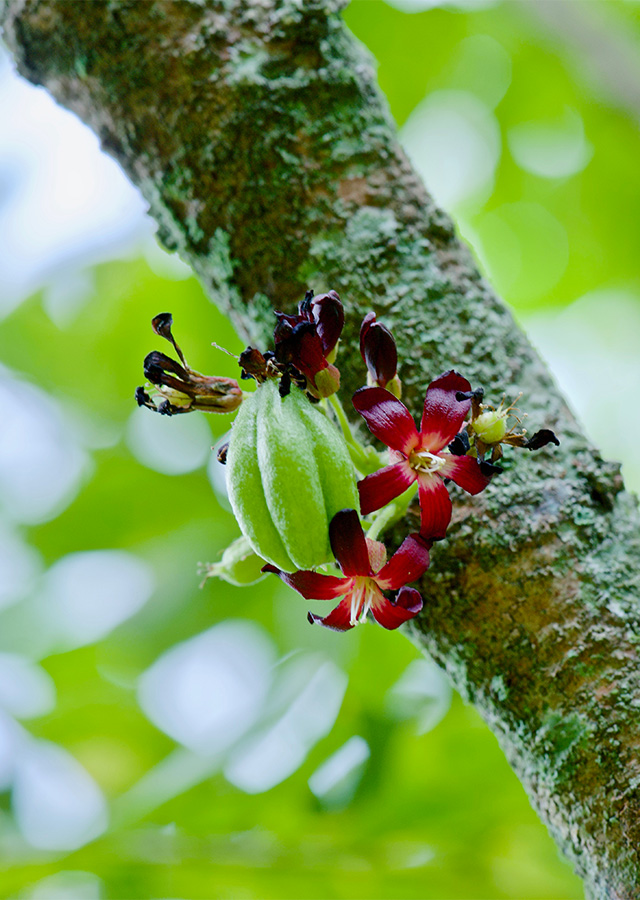 Habitus
Trees. A small perennial tree, grows up to 4 to 10 m high
Growing Requirements
Low Temperature
Habitat
Forest
Overview
The Cucumber tree is native to Southeast Asia, but has now been found to flourish in the tropics. Throughout Indonesia , Thailand, Malaysia , the Philippines, Sri Lanka , Bangladesh and Myanmar, the tree is cultivated or considered semi-wild. The plant is widely used for treatment as a medicinal plant. Sections of the plant that are sometimes used are the leaves, flowers and fruit. The fruit is a strong vitamin C source
Vernacular Names
Bilimbi (English, Danish, India, French Guiana, Brazil, Catalan, Spanish), Blimbing (Dutch, Indonesia, Malaysia), Bimbling plum (Jamaica), Birinbi (Japanese), Blimblim (French), Bilimbibaum (German), Blimblim (French), and Taling pling (Thailand).
Agroecology
Compared to carambola, cucumber tree is a warm, tropical plant, very cold intolerant and does best in areas with uniformly distributed rainfall throughout the year, but with a dry season of 2-3 months. It grows from near sea level up to an altitude of 750 m. It grows from sandy to calcareous soil on a wide variety of soils, does best with a lot of organic matter and a pH of 5.5-6.5 on rich , well-drained, sandy-loam or clayey loam.
Morphology
Stem is short with sparse thick branches.
Leaves Alternate, densely crowded, 30-60 cm long with 11-37 leaflets, green, short petiole, ovate or oblong to lanceolate, medium-green on the upper surface, pale on the underside, obliquely rounded at the base and acuminate on the tip.
Chemical Constituents
Amino acids, citric acid, cyanidin-3-O-b-Dglucoside, phenolics, potassium ion.
Fruit extracts yield flavonoids, saponins, and triterpenoid.
Bark yields alkaloids, saponins, and flavonoid
Traditional Medicinal Uses
For the prevention and treatment of hyperlipidemia, antibacterial and antiscorbutic activities are used.
The anti-atherogenic index and HDL-cholesterol / total cholesterol ratio were substantially increased, but LDL-cholesterol and total cholesterol concentrations were not affected.
Reduced levels of kidney lipid peroxidation and oral anti-diabetic treatment.
In tropical Asia: traditional cough, cold, itching, acne, boils, rheumatism, scurvy, syphilis, diabetes , hypertension and whooping cough medicine.
In Thailand, leaves are used externally to avoid scratching, to treat syphilis, to cure beriberi, biliousness and coughs when taken internally fresh or fermented.
In Malaysia, as a remedy for venereal diseases, new or fermented leaves are used. The infusion of leaves is used as a cough cure and as a tonic during childbirth. Leaf decoction is used to alleviate rectal inflammation as a treatment and tends to be effective against cough and thrush.
In the Philippines, the warm paste of the leaves is used for pruritus or for scratching, swelling of the mumps and rheumatism, and for skin eruptions.
In Java, inflammation of the rectum, mumps, rheumatism and pimples, applied to bites of poisonous animals, is handled with leaf decoction. Flower infusion is used in thrush, cold, and cough treatment.
In India, the fruit is used as an astringent stomach, coolant, and fever reducer. For small instances of bleeding from the intestines, liver, and internal haemorrhoids, syrup is used
Cultivation
Vegetative (by seeds) and generative propagation (stem cutting, grafting, budding).
Reference Sources
Lim, T.K. (2012). Edible Medicinal and Non-Medicinal Plants: Vol. 1, Fruits. Springer. DOI 10.1007/978-90-481- 8661-7_3. (pp.448-453).
Stuart Xchange. (2017). Philippines Medicinal Plants. Averrhoa bilimbi L. http://www.stuartxchange.com/Kamias.html 20-07-2020