Stone Leaf
Tetracera scandens
Dilleniaceae
Location in our garden
Section A (Principal)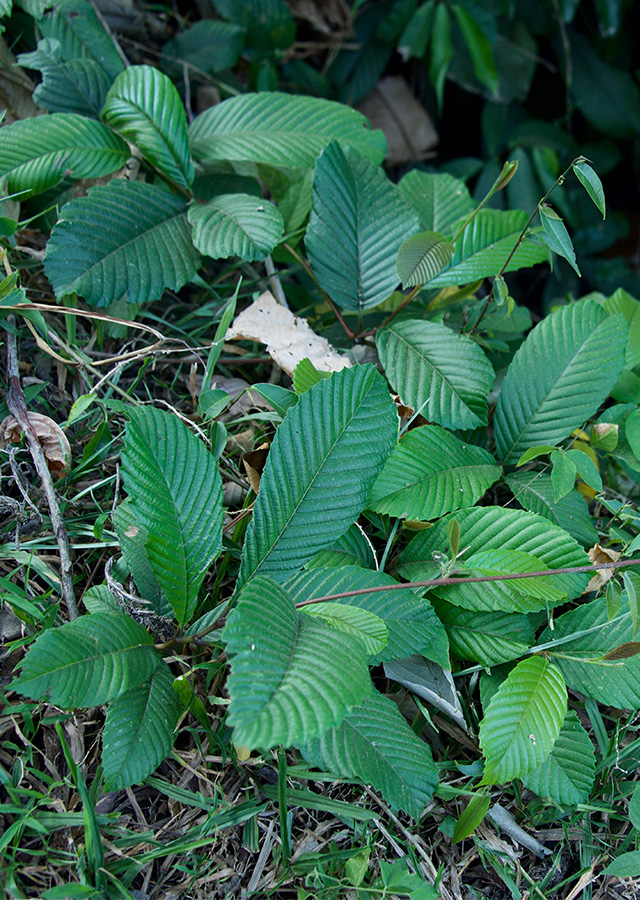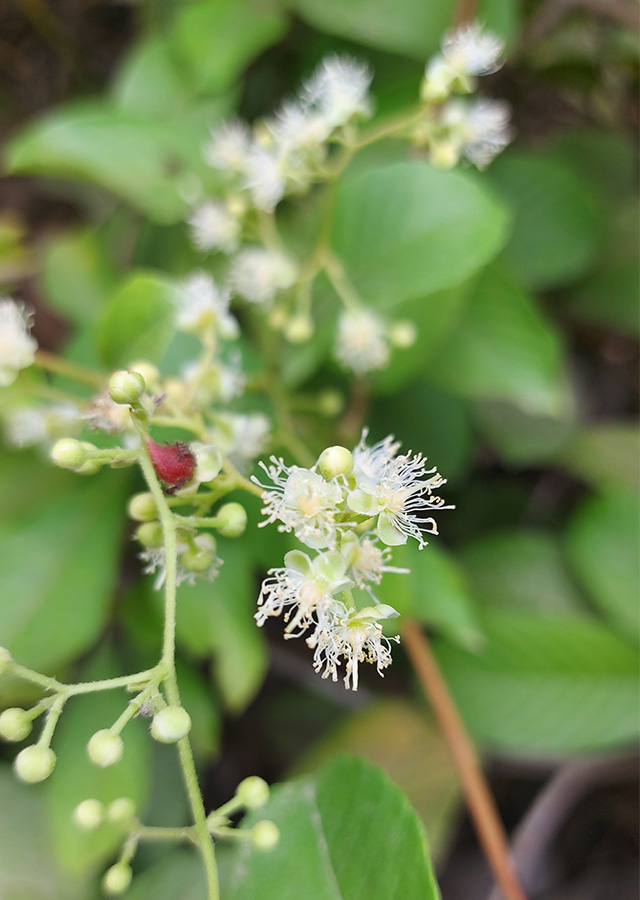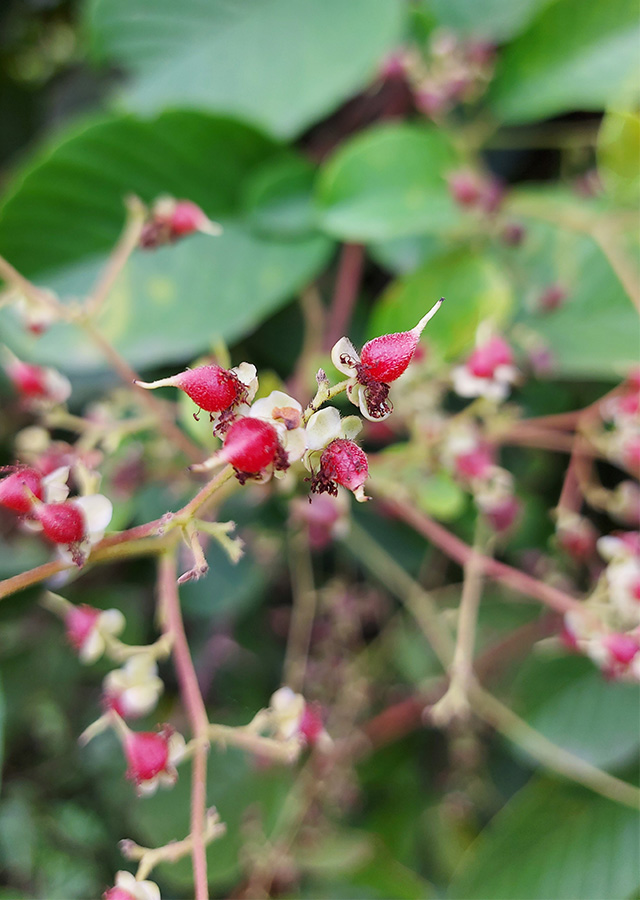 Habitus
Climbers. An evergreen climbing vine, perennial,can grow up to 30 m in length
Growing Requirements
Need Shade
Habitat
Riverbanks
Forest
Coastal
Shrublands
Overview
Stone leaf is a shrub species of which various parts have been used for traditional medicine and used locally as a sandpaper. The plant spreads all over China, India,Malaysia, Vietnam, Philippines, Myanmar, Thailand, and Indonesia
Vernacular Names
Mao guo xi ye teng (Chinese), Mempelas kesar (Malay),Malakatmon (Philippines), Cay day chieu (Vietnamese).
Agroecology
Stone leaf is a creeper or climber in thickets and secondary forests, a woody climbing plant, producing stems growing up to 30 m long, especially on riverbanks and near the seacoast.In more open vegetation forming small shrubs growing only 2 m tall in areas of open vegetation. Found at elevations from sea-level up to 1,000 m, but rarely above 500 m.
Morphology
Bark
- thin, flaky, reddish brown.
Leaves
- leathery, harsh, oblong-ovate tooblong-elliptic, 6 to 12 cm long, toothed at the margins.
Flowers
- numerous, white, about 8 mm indiameter, borne on terminal, and axillarypanicles, 10 to 25 cm long.
Fruits
- oblong-ovoid, pointed, nearly 1 cmlong, containing one hairy seed.
Seeds
- ovoid, 4 x 3 mm across, shining black,aril 2-3 mm long, fimbriate.
Chemical Constituents
Alkaloids, terpenoids, phenols, and flavonoids(kaempferol, quercetin, isoscutellarein, hypoletin,astragalin, genistein).
Traditional Medicinal Uses
Stem extract have a potency as antibacterialagent against Staphyllococcus aureus and Escherichia coli.
Treatment of rheumatism, lowering hypertension,lowering blood pressure, inflammatory diseases,hepatitis, internal pains, urinary disorders,dysentery, childbirth, sore throat, gout anddiabetes infirmities.
In Malaysia, the leaves are applied to boils to ripen them, a decoction ofthe plants administered after childbirth. The roots are used as anastringent in diarrhoea, and the juice of it is applied to mouth ulcers.
In Indonesia, the finely crushed young shoots are made into a poultice andput on bites of poisonous snakes. The sap of the stem is used as a coughmedicine.
In Philippines, an infusion of the stem is drunk against tuberculosis, usedas a gargle against thrush. Externally, applied to a sore throat.
In Cambodia, the stem is used as a diuretic.
In Vietnam, the root and stem are used to treat hepatitis, swelling, and gout.
In India, juice of aerial portion is given orally once a day in burning sensation during urination.
Cultivation
Propagation through seed, stem cutting and root cutting
Reference Sources
Muliyah, E., Sulistijorini, Sulistyaningsih Y.C., Rafi M. (2018). Tetracera scandens as a Medicinal Plant:Secretory Structures, Histochemistry, and Antibacterial Activity. The Journal of Tropical Life Science. Vol. 8,No. 1, pp. 68 – 74, January 2018. doi: 10.11594/jtls.08.01.12. file:///C:/Users/head_office/Downloads/692-16716-2-PB.pdf. 30-07-2020
Philippines Medicinal Plants. Tetracera scandens (L.) Merr.http://www.stuartxchange.com/Malakatmon.html.30-07-2020
Tropical Plants Database.Tetracera scandens. http://tropical.theferns.info/viewtropical.php?id=Tetracera+scanden. 30-07-2020
Umar, A., Ahmed, Q.U., Muhammad,B.Y., Dogarai, B.B.S, and Siti Zaiton, S.B.M.S. (2010). Anti-hyperglycemicactivity of the leaves of Tetracera scandens Linn. Merr.(Dilleniaceae) in alloxan induced diabeticrats. Journal of Ethnopharmacology, 131 (2010) 140–145.https://www.academia.edu/10280865/antihyperglycemic_activity_of_tetracera_scandens. 30-07-2020